CEWEP Integration Award 2018 nominee: Returkraft, Visitors and Education Programme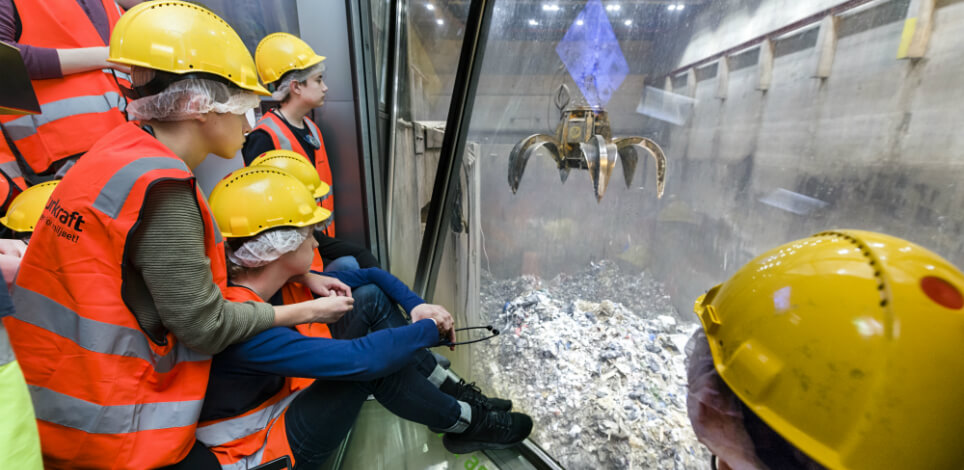 Returkraft is a Waste-to-Energy plant in Kristiansand, Norway. The plant has been in operation since 2010 and was designed with a view to facilitate visitors of all ages. Two full-time educators take care of 3000 visitors each year.
In addition to a tour of the plant, visitors are also offered a teaching program. The programs are tailored to specific age groups and linked to school curricula. Two dedicated rooms are designed for teaching purposes and provide an intuitive and innovate alternative to a standard classroom.
The teaching programs focus on topics like:
"The three Rs" (Reduce, Reuse, Recycle);
Algebra at the plant – a math course using physics and numbers drawn from the WtE process. This program is part of a national strategy to strengthen the sciences in general, and math in particular;
Waste-to-Energy – the program shows how the law of energy conservation works in the plant by way of a model steam engine;
Sustainable development – a reflective discourse about distribution of the earth's resources, based on a highly unfair relay race;
Marine littering;
The arts – on a regular basis, the plant is used for art exhibits, and as a venue for music, dance or theatre performances – with a view to challenge popular misconceptions about our industry, and illustrate how waste treatment is an integral part of a modern society.
Throughout, we emphasize that incineration should be the last resort to get rid of our waste, by highlighting the importance of reuse and recycling as means to preserving the earth's resources.
More about Returkraft (in Norwegian)
Other nominees for CEWEP Integration Award:
Amager Bakke, Denmark – Modern Solution for Urbanisation Challenges
INDAVER, Belgium, W2E-powered steam network 'ECLUSE'
The Award winners will be decided by popular vote during 9th CEWEP Congress in Bilbao on 20th September 2018.