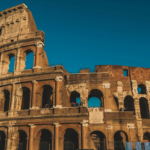 City of Rome has published tender for Waste-to-Energy Plant
The new Waste-to-Energy plant in Rome will reduce city's CO2 emissions reduced by 120,000 equivalent tonnes, produce energy for 200,000 families and create 150 new jobs.
According to a study carried out by CEWEP member Utilitalia, the new plant will have a positive impact not only in Lazio Region but also on a national scale. Currently, Central Italy has to export 17% of its municipal waste, despite already disposing an extremely high percentage (34.2%) of waste sent to landfill.
CEWEP is happy to see that Rome WtE plant project is finally going ahead. This new modern facility will greatly reduce the need for landfilling and waste shipments and instead use the energy and materials embedded in the residual waste locally. It is a win for climate protection, circular economy and is exactly what this magnificent city needs.
We also fully support the study conducted by CEWEP Italian member Utilitalia on the infrastructure needs on the Italian level, which also gives key insights for the European perspective.