CEWEP Innovation Award 2018 nominee: Tafjord Kraftvarme, Technology to Convert District Heating to Process Steam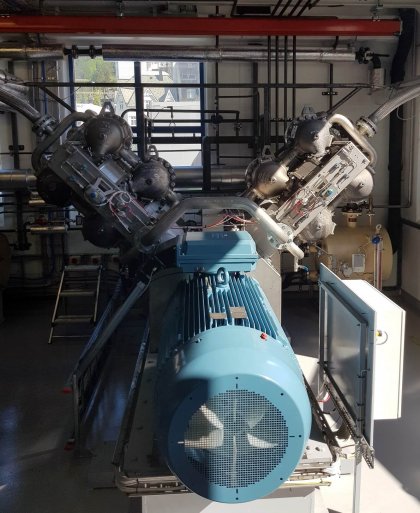 This new ground-breaking project, a business model between three parties regards a technology to convert district heating to process steam. The project is a partnership between TINE, a national dairy company, Olvondo Technology as a technology owner and energy provider of steam, and Tafjord Kraftvarme Waste-to-Energy plant as energy provider from district heating.
The project allows TINE Meieriet Ålesund to replace 12 GWh that would be produced from natural gas with district heating and reduce CO2 emissions by 66% at this particular dairy and 5% on the national level. The new heat pumps, based on Stirling technology, will use district heating to produce steam. The hot water for the district heating system is delivered by Tafjord Kraftvarme energy recovery plant. The steam will then be used in the the process of making dairy products. TINE aims for the entire production to be based on 100% renewable energy by 2023.
The company Olvondo Technology which has partnered with Tafjord Kraftvarme (TKV) and TINE Meieriet Ålesund in order to exploit the new technology, does not sell heat pump technology, but instead replaces the role of service provider and supplies energy in the form of steam to the dairy on a long-term contract.
For Tafjord Kraftvarme this collaboration bring a whole new green opportunity to the WtE industry, also internationally. Connecting the district heating to a large customer who has a consistent consumption throughout the year will increase the energy utilisation rate of the WtE facility (heat export) with 4,5%. In total the energy export (heat & power) will increase with 2%.
Other nominees for CEWEP Innovation Award:
Twence, the Netherlands – Recovery of Sodium Bicarbonate from CO2
The Award winners will be decided by popular vote during 9th CEWEP Congress in Bilbao on 20th September 2018.