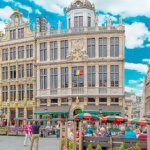 Tour to Brussels Waste-to-Energy plant
On 4th June 2019, in the context of the European Sustainable Energy Week, CEWEP organises a Guided Tour of Brussels Waste-to-Energy Plant.
The Brussels Waste-to-Energy plant used to produce only electricity, but since early 2016 it also started delivering heat to the nearby shopping center. By doing this Brussels joined the most sustainable European cities that have an integrated approach to waste and energy management.
Do you want to learn about what happens to your non-recyclable waste? Fill in the form below and join us on this tour.
A shuttle will pick up the participants in the European quarter (see map), bring them to the plant and back.
Please be aware that the number of participants is limited.
Agenda
9:00 – Pick-up at Parc du Cinquantenaire (Avenue de la Joyeuse Entrée)
9:30 – Arrival at the plant, welcome coffee
10:00 – Introduction by Ella Stengler (CEWEP, Managing Director)
10:15 – Presentation of the plant by Georges Dumbruch (Former Plant manager)
11:00 – Plant visit
12:00 – Lunch
13:00 – Return trip to Parc du Cinquantenaire
Registration
Registrations are suspended, as we have reached the maximum size for a group visit. For more information, please contact maxime.pernal@cewep.eu