20th May 2019, CEWEP – ESWET Green Week Partner Event:
How to ensure a clean Circular Economy?
Ella Stengler, Managing Director at CEWEP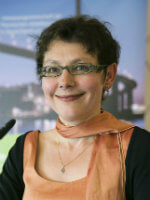 Dr. Ella Stengler is the Managing Director of CEWEP since 2003. She is dealing with European policy and legislation on waste, environment, energy, emissions, etc.
Before working for CEWEP, Ella was the Managing Director of ITAD, the German association of Waste-to-Energy Plants, and prior to that she was the Director of AGS, the German association of hazardous waste companies (public private partnership).
Ella has published several articles in German and International journals. She has been working in the waste business for more than 20 years.